5-Effective Ways To Get Your People Career Ready Faster Covered in 1 60-Minute Course
If you're looking for the most comprehensive, convenient & results driven online course to help your learners get career-ready faster, BrandDisco©'s got you covered!
Assess & Develop Top Soft-Skills: With BrandDisco©'s built-in instant personal brand discovery assessment & feedback report.

Train More Job-Seekers: Using 6-interactive carefully crafted personal branding video modules, informative instructor notes, built-in practice questions & downloadable 5-Point toolkit for marketing your people's top skills.

Certify User Knowledge: With a built-in final course exam & downloadable completion certificate.
Take a FREE virtual tour of this training now!
Administer This 60-Minute Course In 1-Setting Or Segment In Sections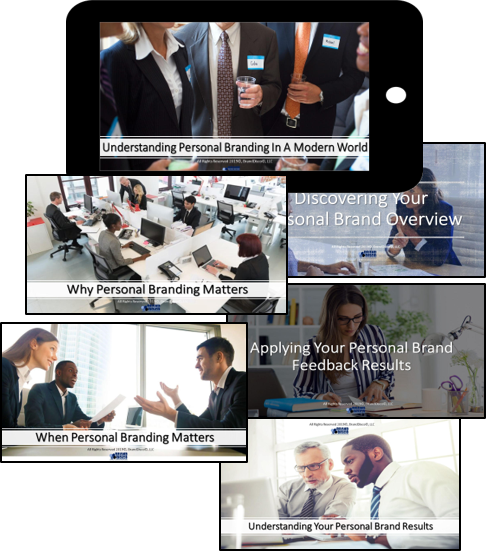 This 6-Module Course Covers multi objectives
Module 1: Understanding Personal Branding in a Modern World

Module 2: Why Personal Branding Matters

Module 3: When Personal Branding Matters

Module 4: Discovering Your Personal Brand via BrandDisco©'s Built-in Discovery Assessment

Module 5: Understanding Your Personal Brand Results & Feedback Report

Module 6: Applying & Marketing Your Personal Brand in Real Time to Real Actions
GET INVITED TO SPEAK WITH A MEMBER OF OUR TEAM
Perfect for Group Workshops, or Individual Usage, Your People Will Learn:
How to Identify & leverage their competitive advantages to support their career goals

How to craft more persuasive email introductions to potential employers to get faster responses

How to create more effective social media follow ups to key contacts with confidence

How to present more effective elevator pitches when networking

How to exude poise and present value-add talking points when interviewing to keep them top of mind

And so much more
This Course Complements Your Objectives
See 7-Ways Our Courses Have You Covered:
✔Instantly automates your Personal Branding Training while still leaving room for your expertise
✔Reduces your manual labor & efforts by up to 50%
✔Includes BrandDisco©'s Signature Personal Brand discovery assessments automatically built in to training
✔Electronically delivers your people's personal brand feedback reports & training certifications to your email
✔Enables you a one to many training model vs. a laborious, one at a time, approach
✔Includes reference materials, practice exercises and worksheets saving you time & budget
✔Collects & build your people's statistical training data and analytics in one place
Different courses for different markets to support those you serve
TELL US WHICH MARKET YOU SUPPORT
-Standard/Job Seekers?
-Veterans?
-Military Spouses?
-College Students?
-HBCU Students?
-Entrepreneurs?
-Athletes? (COMING SOON!)
How Licensing This Course Works
When you sign up to license BrandDisco©'s Personal Branding Online Courses, we'll give you the access & power to use this training, as your very own, at-will, and on-demand. All licenses are good for one calendar year, issued at the company level and will cover the quantity of courses you select. Including, if you increase quantities within the year.
GETTING STARTED IS SIMPLE!
Your organization is just 3 easy steps away, from licensing this course. As a licensee of this online training course, your company will receive its very own, personalized welcome page & training access portal, issued within 48 hours of signing up!
We'll simply load-in the number of online trainings you desire and give you the complete access needed to administer the trainings to your people, as much, and as often, as you desire!
TAKE THE 1ST STEP IN COMPLETING YOUR NEW ORDER FORM NOW
The 8-Perks of Licensing This Course
Outside of having awesome team support, as a newly licensed account holder of BrandDisco©'s Online Training Courses, your new company level access-kit will include the following 8-Perks: